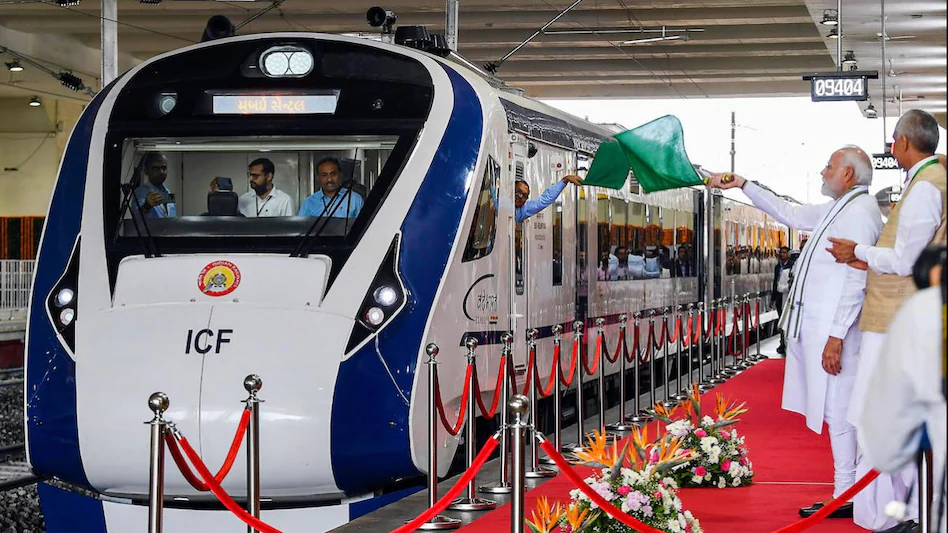 Travel
vande bharat train – the best way to travel india
Vande Bharat Train is a semi high speed train running on many routes throughout india to make traveller's journey fast, safe and enjoyable. Designed and manufactured in Integral Coach factory, Perumbur, Chennai. The capacity of the train is at the speed of 180 kms/hr but the tracks in India does not support such high speed and therefore the train runs at a maximum speed of 130 kms/hr.
special features of vande bharat train
The special features in vande Bharat Train include – automatic doors, smoke detectors, large windows for that perfect view during journey, rotatable seats, infotainment system, WiFi, reading lights, Bio- vaccume toilets, sensor based water taps and much more to make your journey comfortable.
inauguration
The train originally named train 18 was renamed shortly before inauguration as Vande Bharat and was flagged off on 15 Feb 2019 from New Delhi to Varanasi. Commercial run started from 17th feb 2022. It takes about 7 and a half hours to reach Varanasi.
Presently Vande Bharat Train is running between: New Delhi and Varanasi, New Delhi – Shri Mata Vaishno Devi,Katra, Mumbai Central – Gandhi Nagar Capital, New Delhi – Amb Andaura (Himachal Pradesh) and Chennai – Mysuru.
vande bharat for himachal pradesh
Recently in October, Vande Bharat train was flagged off for the beautiful state of Himachal Pradesh which is frequented by domestic as well as international travellers throughout the year. The train starts from New Delhi at 05.50 am in the morning and reaches Amb Andaura in Himachal Pradesh at 11:05am taking only 5 hours and 15 minutes to reach at the destination. This destination is very close to many popular tourists places like – Kangra, Dharamshala, Dalhausie, Kullu and Manali, Kasol, Manikaran etc.
fastest train for delhi to chandigarh
The recently inaugurated New Delhi – Amb Andaura Vande Bharat Train takes only 2 hours and 50 minutes to reach the popular city of Chandigarh and becomes the fastest train to reach Chandigah.
vande bharat for reaching dharamshala
For reaching Dharamshal in Himachal Pradesh, earlier the tourists had to drive for 12 hours to reach or they had to take train from New Delhi to Pathankot and from there one had to take taxi or bus to travel to Dharamshala which is situated at 60-70 kms from Pathankot Railway Station. The Volvo buses also ply between Delhi and Dharamshala and takes 12 hours to reach. After teh launch of Vande Bharat on this route one can get down at Amb Andaura and can easily reach Dharamshala by road in 2.5 hours.